Someone posted a link on Facebook to our
I work hard so millions on welfare don't have to
merchandise, and it's getting a ton of hits. I can't track down the original post, though, and it's driving me nuts.
UPDATE 08/22/09: I don't know if this is related to the above, but I found a tweet on Twitter that also linked to this merchandise. Ironically, the person who posted it wonders: "How is this an appopriate [sic] sentiment to express via teddy bear?" and links to this
I work hard so millions on welfare don't have to
teddy bear. I guess @autgoff doesn't get that there are reasons a person might choose an object, like a teddy bear or clock, rather than apparel or stickers, to get across a message important to them. For example, in the workplace t-shirts with slogans on them may not be appropriate attire, but a teddy bear placed on a desk is fine.
Whatever! If you're interested in seeing this anti-welfare merchandise yourself, please take a look at our
CafePress
and/or
Printfection
shops. Here are some samples: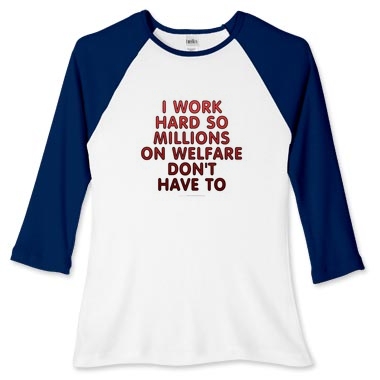 .