UPDATE
Get your
Fuck Obama!
gear here:
Fuck Obama! merchandise at CafePress
,
Fuck Obama! merchandise at Zazzle
Here are a few examples of what's available; click on any image to go to our shop: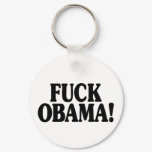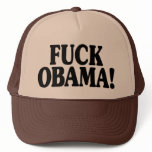 ----------- Begin original post ---------------------------
We've received many requests from fellow anti-Obama folks for
Fuck Obama!
merchandise. However, we decided against that as we prefer to keep our anti-Obama gear based on
reasons
for being against the fraud--and heaven knows, there are MANY reasons to be anti-Obama! But after much thought we've decided to offer this compromise:
Buck Farack gear
. We think its message is clear enough to satisfy the people who want to say "fuck Obama" yet subtle enough to satisfy those who'd prefer not to be that blunt.
If you're heading to Denver for the
un
Democratic convention and want to be sure you have time to receive your merchandise before leaving, please order within the next 10 days or so. CafePress, the backend for our shop, offers a number of different delivery options, but the sooner you order the less it'll cost for shipping as you won't need the fastest methods.
.